The Hazara Genocide and Systemic Discrimination in Afghanistan
By Nahid Paiman
In April 2018, I visited my family in Kabul and I asked family members to visit the Junbesh-e Roshanaye memorial. My legs were shaking and I could not breathe as I walked through the graves of young Hazara men and women, who were once university students and professors. I counted each grave and looked at their photos and biographies on display — 86 Hazara lives were taken because they fought for democracy and protested structural racism in the country. The Junbesh-e Roshanaye Memorial is on top of a hill in the 13th District of Kabul to remember the lives of Hazara students and professors who protested unjust distribution of national resources and foreign aid in Afghanistan.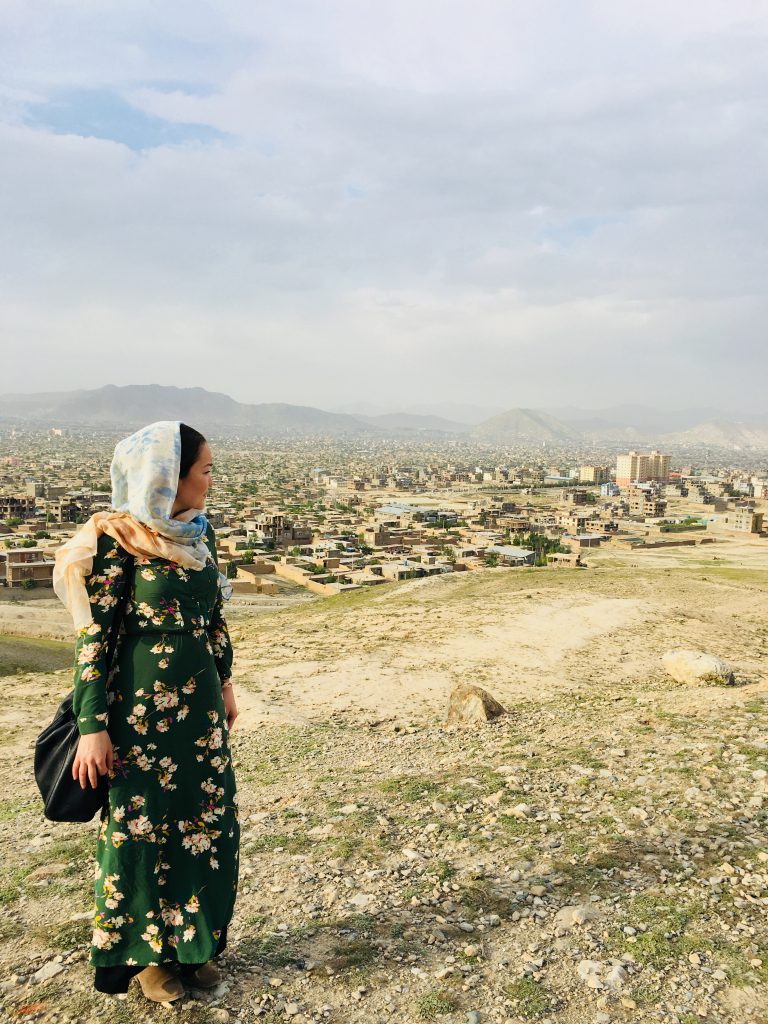 On July 23, 2016, two suicide bombers targeted a peaceful rally at the Deh Mazang Square of Kabul. The rally was organized by a predominantly Hazara-led movement known as "Junbesh-e Roshanaye" or the Enlightenment Movement. It highlighted the growing frustration and discontent among the Hazaras regarding their share of national resources and foreign aid.[1] 
The movement was formed in protest against a government decision to change the route of a major power transmission line, which was previously planned to import electricity from Turkmenistan through the province of Bamyan to Kabul and other provinces in the south and east of the country. Fisher Gernman LLP conducted a survey that showed a powerline route through Bamyan was best positioned to serve communities in need. However, in April 2016, the government announced a plan to change the route from Bamyan to the Salang Pass at the Hindu Kush Mountains, which connected Kabul to an existing power distortion line from the Central Asian Republics.[2]
In "The Hazaras and the Afghan State," Ibrahimi analyzes Afghanistan's state-building as a historical reconstruction that relies on dynamics of selection and exclusion in distribution of state power, which results in ethnic hierarchies of power. Also, historically, organized violence has been used as a strategy for political power and the Hazaras have fallen victim to this for over a decade.[3] The government's decision to change the route for a major power transmission through areas that already had power indicate the systemic discrimination against the Hazaras. Although German Fisher LLP suggested the Bamyan route and the Hazaras expressed support of this route, the government decided against it and did not make any effort to protect its people ahead of the protest. The structural discrimination against the Hazaras is not a new phenomenon. It is deeply rooted in Afghanistan's history.
This year marks the 129th anniversary of the Hazara genocide by Abdur Rahman Khan where 62 percent of Hazara men, women, and children were slaughtered.[4] Abdur Rahman Khan created misleading propaganda against all Hazaras, oppressing and marginalizing them with an impact that is still rooted in the structure and systems of government.[5] This year also marks the 27th anniversary of the Hazara massacre in Afshar by the Islamic State of Afghanistan government led by Burhanuddin Rabbani, its allied Ittihad-i Islami, and Shuray-e-Nazar-e Shamal militias who killed more than 2,000 Hazara families.[6] Additionally, this year marks the 22nd anniversary of mass murder of the Hazaras by Taliban in Mazar-e-Sharif where 10,000 Hazara civilians were brutally murdered.[7]
For more than a century, the Hazaras have experienced ethnic cleansing, slavery, land grabbing, unwarranted taxes, looting, and pillaging of homes, which have systematically excluded them from the government, economic opportunities, and social dynamics. Afghanistan is a multi-ethnic and multi-lingual nation, but only the Pashtun ethnicity has ruled the country throughout kingdoms and presidencies. Pashtun nationalism is against the very essence of democracy because it excludes other major ethnicities from high-ranking government positions and critical decision-making processes.
Post-911, the United States' presence in Afghanistan came with the idea of democracy, freedom of speech, and human and civil rights. My family was thrilled to return to Afghanistan from decades of displacement in Pakistan to rebuild our country because we believed in and lived by the values of democracy. We moved to Dasht-e-Barchi, 13th District of Kabul, a community that lacked government-provided security. My father wrote a letter to former President Hamid Karzai about the poor security in our community, which he had the opportunity to read to the president directly. In the era of democracy, the absence of police and security operations in the capital of Afghanistan with Hazara majority residents was unacceptable. Former President Karzai understood this issue and he established an Afghan National Police office in the 13th District of Kabul.
My family founded the very first English and computer learning center, "Payam-e-Sahar," in Western Kabul. I started teaching English classes at Payam-e-Sahar when I was 13 years old, and it marked the beginning of my work to rebuild my homeland. My students were all older than me, but we had to start from somewhere. We reached our goal of introducing people to technology and to the international community. We had to carve out a way to connect people to the outside world. 
In 2002, Marefat School, a community-supported private school in Western Kabul, began offering classes on human rights and democracy. These classes were eye-opening and ignited a fire of hope among the new generation, while also sparking fear among religious entities such as Muhamad Asif Mohseni. Mohseni was a powerful Shia clergy and founder of the Islamic Movement of Afghanistan. In April 2009, my friends and I joined a peaceful demonstration against the Shia Family Law, proposed by Mohseni, a national law that legalized rape and banned women from getting an education and work outside their homes. During the protest, Mohseni's students and supporters accosted and threatened our lives, calling us "Kafir," a term for infidel. As a response to our protest, Mohseni's supporters attacked Marefat School because it taught democracy — an idea that granted equal rights to women. Because of our demonstration and the pressure from the international community, the sections of the Shia Family Law on legalizing rape and prohibiting women from going to school or work were removed.
This year's elections in the United States are incredibly crucial both here and for the rest of the world. We must ensure democracy by securing every vote at home first in order to advocate for the values of fairness and equity elsewhere. A safe and secure election will be a promise fulfilled for the allies of democracy such as the Hazaras. While working with the justice reform and fighting hate and bias teams at The Leadership Conference, I have learned a great deal about the importance of the Black Lives Matter (BLM) movement in the United States. This movement reminds me of the Enlightenment Movement in Afghanistan and the Indigenous movements in the Americas. Marginalized communities around the world can learn from each other's experiences and together fight for justice and democracy. We cannot let the cowards who hide behind their crass and barbaric actions take away our hard-fought right to vote. We cannot let them silence us, and we must stay united and defend human and civil rights of all peoples.
---
Nahid Paiman is a policy assistant at The Leadership Conference on Civil and Human Rights.
---
aNiamatuallah Ibrahimi, The Hazaras and the Afghan State: Rebellion, Exclusion and the Struggle for Recognition (London: C. Hurst & Company, 2016)  
[2] Ibrahimi, The Hazaras and the Afghan State
[3] Ibrahimi, The Hazaras and the Afghan State
[4] B. A. Dawlatabadi, Hazaraha az qatl-e aam ta ehyae-e howiat (Hazaras from Massacres to Revival of Identity) (Qom: Ebterkar-e Danish, 2009)   
[5] Ibrahimi, The Hazaras and the Afghan State
[6] Dawlatabadi, Hazaraha az qatl-e aam ta ehyae-e howiat
[7] Dawlatabadi, Hazaraha az qatl-e aam ta ehyae-e howiat