Fighting Hate & Bias
Advocating for a safe and inclusive America by documenting hate, building community, and demanding collective action
Acts of hate touch every community and threaten to undermine the most basic tenets of our democracy. And hate is on the rise. New research found that hate crimes reached their highest number in a decade after increasing for four straight years.
But the data understate the true volume of violence against a diverse set of communities impacted directly by hate. Nearly 90 percent of the nation's law enforcement agencies do not submit hate crimes to the FBI. Additionally, we know that victims and survivors may be fearful of authorities and thus, not report the crimes to law enforcement. That means our understanding of the magnitude and nature of the crisis is dangerously limited  —  even as the crisis worsens.
To take on this problematic gap in data, The Leadership Conference Education Fund launched Communities Against Hate, in partnership with the Lawyers' Committee for Civil Rights Under Law and a diverse array of organizations to document stories and respond to incidents of violence, threats, and property damage motivated by hate in America. Communities Against Hate provides a safe place for survivors and witnesses to share stories of hate incidents through an online database and telephone hotline.
As the Trump administration fans the flames of nationalism and prejudice through rhetoric and alarming policies, we will not lose hope. We will continue working with communities impacted by hate to fight back and build a safe, diverse, and inclusive America.
Get Involved
Together, we have the power to confront the forces of hate, celebrate the dignity of every person, and move our nation toward its highest ideals of fairness and inclusion. Learn more about our campaigns and projects to fight hate and bigotry.
What Is the State of Hate?
---
Our report, Hate Magnified: Communities in Crisis, documents where hate incidents occur, which communities are most likely to experience hate incidents, and what form those incidents most often take. The report findings underscore the need for better data collection, comprehensive policy reform, and widespread support for combating hate incidents.
Alarmingly, our data show that nearly 40 percent of those perpetrating hate incidents invoked the name of an alt-right hate group, President Trump, or Trump-related rhetoric.
Data excerpts from the report: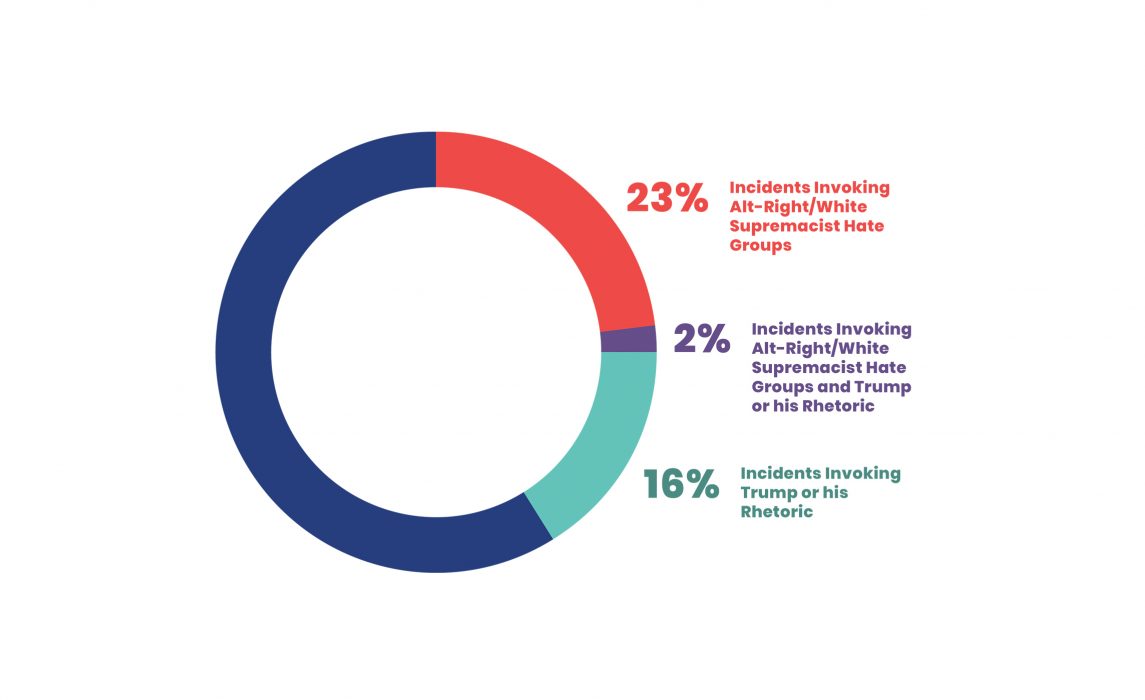 PERCENTAGE OF REPORTED INCIDENTS INVOLVING INVOCATIONS OF POLITICAL RHETORIC AND/OR ALT-RIGHT OR WHITE SUPREMACIST HATE GROUPS
FIGURE 1. ACTION IN INCIDENT CODED FREQUENCIES FROM THE CAH HATE INCIDENTS DATABASE
FIGURE 2. OVERALL EXPERIENCE OF HATE
FIGURE 3A. EXPERIENCE WITH EXPRESSIONS OR INCIDENTS OF HATE - TOTAL ACROSS ALL RESPONDENTS
FIGURE 3B. EXPERIENCE WITH EXPRESSIONS OR INCIDENTS OF HATE - TOTAL VS BLACK RESPONDENTS
FIGURE 3C. EXPERIENCE WITH EXPRESSIONS OR INCIDENTS OF HATE - TOTAL VS HISPANIC RESPONDENTS
FIGURE 3D. EXPERIENCE WITH EXPRESSIONS OR INCIDENTS OF HATE - TOTAL VS ARAB / MIDDLE EASTERN RESPONDENTS
Hate Crimes Task Force
---
Our task force is comprised of coalition members who have expertise in hate crimes and defending civil and human rights. Together, we developed a comprehensive list of priority legislative initiatives that represent a path forward to ending hate and promoting unified action, reconciliation, and national healing. Our country's leadership must honor equal protection for all people, view our diversity as a strength, and strive to be a country where all people can safely and freely live, work, and participate in their communities.
The Leadership Conference Statement on the Hate-Motivated Shooting in Jacksonville, Florida
WASHINGTON, D.C. — Maya Wiley, president and CEO of The Leadership Conference on Civil and Human Rights, released the following statement on the mass shooting in Jacksonville, Florida today:
The Leadership Conference Remembers Emmett Till
WASHINGTON — Maya Wiley, president and CEO of The Leadership Conference on Civil and Human Rights, issued the following statement after President Biden signed a proclamation to establish the Emmett Till and Mamie Till-Mobley National Monument in Illinois and Mississippi: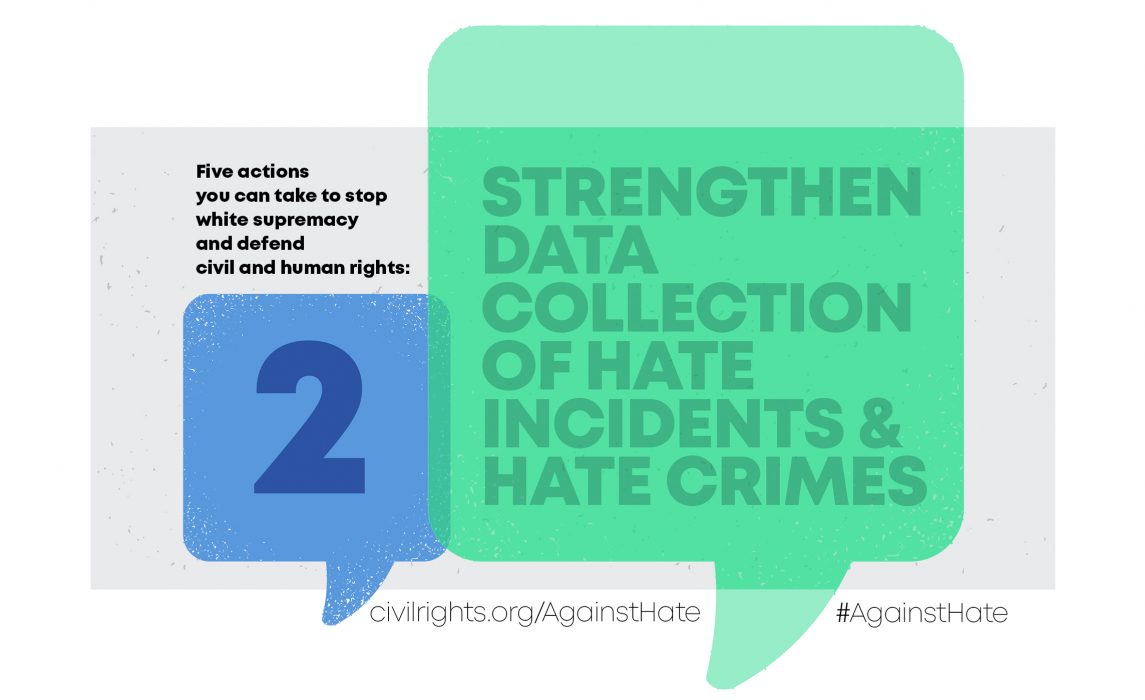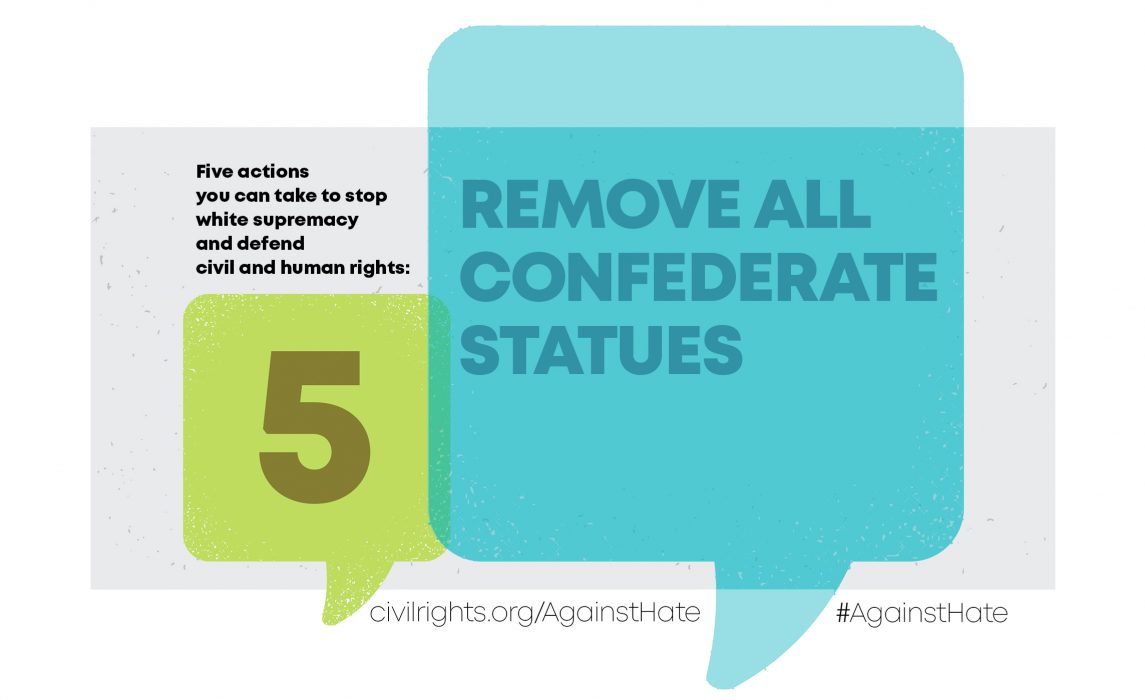 Contact Us
---
Learn more about The Education Fund's initiative, Communities Against Hate; share a story about your experience with hate; or get involved by contacting Anjali Thakur-Mittal, director of Communities Against Hate.