Immigrant Rights
Working to create an immigration system consistent with our highest values — because immigrant rights are civil and human rights
Since 1996 — and especially after 9/11 — our immigration policies have drastically weakened the rights of immigrants. Many immigrants, including long-term legal residents, are torn away from their families under extremely harsh mandatory detention and deportation policies, or rushed through expedited proceedings that result in widespread mistakes and raise significant human rights concerns. In addition, the use of private, for-profit detention corporations has boomed in recent years.
At The Leadership Conference, we believe America is made better by immigrants. America is made stronger by the refugees who seek our shores for safety. And America is made brighter by those who choose to call this country home.
In the past two years, President Trump has forced our nation's moral standard lower with every outrage and assault against immigrant families. But we have the power to say: No more. We support immigration reform that includes a roadmap to citizenship, fair and humane enforcement consistent with our values, family reunification, and civil rights protections for new working immigrants and those who are already here. 
When the right-wing scapegoats immigrants and refugees to advance a white nationalist agenda, our coalition rises above the politics of fear and division. We will continue to protect our most vulnerable communities and demand a home for everyone here in our nation — a nation founded by refugees, immigrants, and those seeking religious freedom.
Families Belong Together
On June 30, 2018, the Families Belong Together rally saw more than 35,000 people take to the streets of Washington, D.C. to protest the Trump administration's horrific family separation policy. The rally coincided with 788 other events across 50 states.
The coalition continues our work to permanently end family separation and detention, seek accountability for the harm that's been done, and immediately reunite all families who remain torn apart.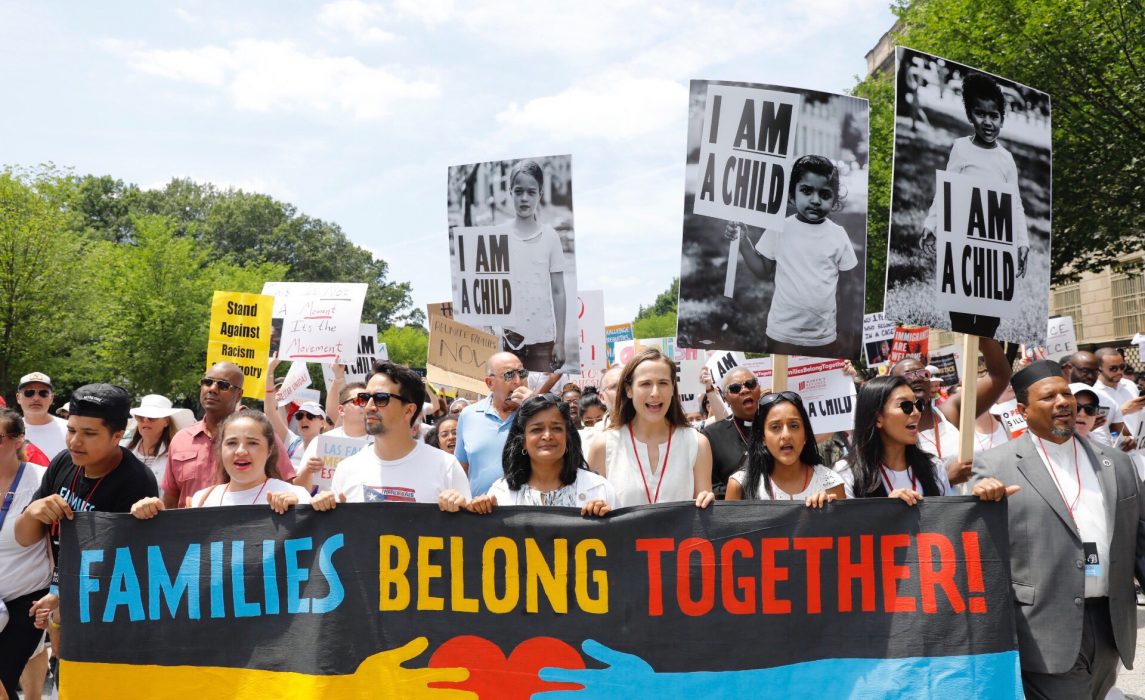 Know your rights: The educational rights of immigrant children
---
The Constitution and the Supreme Court guarantee all children in the United States the right to attend school regardless of their immigration status.
Conozca sus derechos: Los derechos educativos de los niños inmigrantes
---
La Constitución y la Corte Suprema les garantizan a todos los niños en los Estados Unidos el derecho a la educación pública sin importar su estatus migratorio.
The courts are all that stand between Dreamers and Trump's deportation force. If you care about immigrants, then you must care about our courts.
Civil Rights Groups Demand Trump Fire Stephen Miller
WASHINGTON –The Leadership Conference on Civil and Human Rights, along with other civil rights groups, today called on President Trump to fire White House advisor Stephen Miller for propagating racist, anti-immigrant sentiments. In their letter, the groups state that white nationalist, anti-immigrant ideology should have no place in government, and "the recent exposure of his [Miller's] deeply-seated racism provides further proof that he is unfit to serve, and he should immediately leave his post."
28 Immigrant Rights Organizations Urge Senators to Reject Judicial Nominee Steven Menashi
WASHINGTON – As the Senate Judiciary Committee prepares to consider the troubling judicial nomination of anti-immigrant hardliner Steven Menashi to the U.S. Court of Appeals for the Second Circuit, 28 immigrant rights groups are joining their voices to urge the committee to stop his confirmation. Throughout his career, Menashi, a Republican loyalist, has worked to erode critical rights and legal protections of immigrant communities and people of color. While serving in the White House Counsel's Office and at the Education Department, he exhibited alarming tendencies that, if still present while serving on the bench, would deny countless individuals a fair day in court during the remainder of his career.